Hey, do you like contests? Do you like energy drinks??


M-m-m-meeee-e-e t-t-t-ooooo!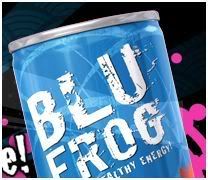 Hee! Have you ever tried BluFrog Energy Drink? I have. Honestly, I don't think I need more energy than I already have. I'm kinda frantic and kinetic as it is! BluFrog drink tastes something like 7-Up without the fizz, like lemon-lime soda without carbonation. When I first tried it, I expected it to be thick and chalky, like Slim-Fast or something. But it is smooth and a little tangy.
Anyway, the dudes at BluFrog are having a contest! And who doesn't love contests (especially when it's totally free to enter!). Here's the scoop:
1. The contest is open to any legal U.S. resident 18 years of age and older.
2. Enter to win by one or all of these three ways:
a.) using Twitter to tweet about why you think BluFrog drink leaves all other drinks in the dust (include #bluworld and http://bit.ly/UiiJy in your tweet);
b.) place a comment on the contest page here and tell everyone which experience you want to win, and why;
c.) write a post in your blog about the contest, and which experience or prize you would choose. Be sure to go back to www.itsabluworld.com/contests and leave your blog post url in the comments section.
3. Each tweet, comment, or blog post counts as one registration, so you can register to win up to three times! '
4. The contest started on June16, and will run until July 17, 2009.
5. Check out all the contest details here.
Oh by the way, the prizes/experiences are pretty mind-blowing– A trip to Orlando, or New York, or Chicago, or Aspen, or a Blu-Gamer Ultimate Gaming Package! Niiice! See the site for all the gory details.