We knew it was coming… springtime. Yes, it's great because everything turns green again, we can open windows and breathe the fresh air again… but for my sons, who are now ITCHING to get outside, it's a tough time. The last thing they want to be doing is sitting in front of books, slaving away at Algebra and past participles all day. The dog doesn't help any, either. She's jumping up and down, bounding and begging to go for her "walkies." Which makes the boys even MORE itching to get outside.
We've made a pact. 😀 For every book they complete, I'll buy them a nice gadget or toy or something. SO FAR it's working. lol, you should see them try to burn through their books now! My youngest is a LEGO and Bionicle freak (he even has his own blog about them), so he's working toward earning more pieces. He's chosen a few sets he'd like to have, and I get to pick one out.
Holy cow, do you have ANY IDEA hoe expensive LEGOS are?! How does the LEGO company get away with such blatant extortion? Gosh, I could easily go bankrupt. And then he shows me his LEGO magazine, with big glossy photos of what the "other" kids are getting. 😯 Well, due to needing to buy groceries for the next month or two, we had to whittle down a few things. This is a nice set, isn't it?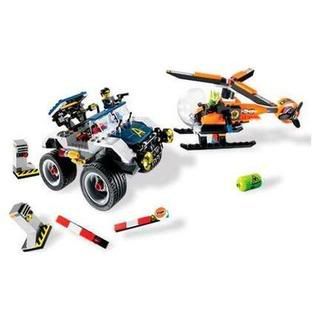 It's the LEGO Agents 4-Wheeling Pursuit Set. :smarty: On "sale" for *only* $30. Phhewwww. Good thing I like Buy.com so much. They have it on sale there, but there's no free shipping with it. Still, it's a good price.
Have you signed up for Buy.com's weekly email newsletter yet? It's great– I find out about deals ALL the time. Then again, so do the kids. :-p But Buy.com has great deals on electronics and home stuff– plus they sell everything! Vacuum cleaner parts, computer accessories, books, clothing, footwear, jewelry, home and garden supplies, tools, building supply items, and loads loads more. I love the place!
Ah yes, and they sell LEGOS. Lots and lots of LEGOS.