This is a Sponsored post written by me on behalf of PartyLite Simple Pleasures Holiday Sweepstakes for SocialSpark. All opinions are 100% mine.
Were you ever a "Tupperware hostess" or "Avon hostess"? I remember going to a few of those kinds of parties when I was a young girl, with my mom. I was cleaning out the garage last week and discovered a box of old Tupperware and hoh boy did it bring back memories! Do they even MAKE Tupperware anymore?
What's hot right now are "PartyLite" parties. Have you heard of Partylite? They sell scented candles and other home fragrance products. I LOVE LOVE LOVE the "ScentGlow Warmers." They produce a warm, waxy scent from an electric warmer. It's great because there are no flames to cause a fire.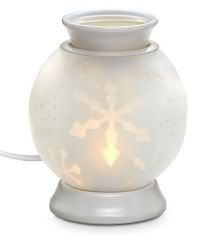 The scents they offer on their Partylite website and in the catalog look absolutely amazing. I am really "into" scented candles and so is my daughter. I don't know if we would ever host a PartyLite party but it's something to consider 😀 Hosting a party has its benefits. Besides meeting new friends and making a little cash on sales, Partylite is very generous with hosts and hostesses, providing a slew of beautiful free products.
If you're interested in hosting a Partylite Party or learning more about Partylite products, check out their webite at Partylite.com and the PartyLite Facebook page. Their latest Winter/Spring 2012 catalog was released December 16th. Partylite is also having a PartyLite Simple Pleasures Holiday Sweepstakes sweepstakes– register with Partylite and enter to win one of 5 $500 Partylite gift certificates! The sweepstakes goes on until December 15th, so hurry!