The kids are really, REALLY into computer games right now. OK, I probably had something to do with it when I let them go hog wild during the holiday vacation. Ugh. But at least the games are "educational" games, hehe! The latest hottie is ActionAllStars.com. This is a very, very cool site! It's free to join and it's SAFE for the kids. They have a kid-safety quideline at ActionAllStars.com with their current partner ConnectSafely.org– and during registration, they ask for a parent's email to complete the registration. I love that.
The games are so cool! I, uh, even created my own little avatar and tried a few games out. Hee! Dirty dishes can wait.

See, see? That's me! The red-headed girl with pigtails. My name is CoolCat9. And she is a PLAYER. I think she's won some Olympic gold medals or something. Oh she may look scrawny against those helmeted refrigerators…
At ActionAllSports.com the avatars are customizable– for example, CoolCat9 could have had blonde hair instead of red hair. But she hates cheerleading, so…. (ha!). I decided to gear up for the coming SuperBowl and try out the football game. This game is ADDICTING! I spent way too long playing it. But it's fun. Here I am with my stylish and fully customizable football helmet, preparing to demolish the opposing side. Uh huh.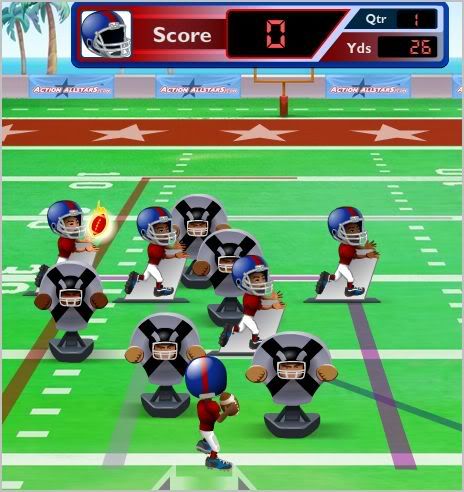 Sports fans or game aficianados will love this site. You can make your little avatar walk to various stadiums and arenas. Choose a sport (compete in just about ANY sport or playoff, like the NBA or MLB, etc) and play away. It's helpful because it does help teach more about how a sport is played. And the games are safe and harmless and the kids aren't encouraged– as they are with so many other computer games– to be violent or vicious to win. You just PLAY a sport. Very cool. And now if you'll excuse me, I have a football championship to win…