I'm still recovering from 2012. It was a whammy of a year, especially the final few months. I'm usually glad to see a previous year end and a fresh, new one start, but I'm a bit apprehensive about what 2013 holds. I read the headlines and they make me more and more nervous every day. On the good side, I have discovered the beauty of the podcast. I found out that I can get daily audio and video feeds automatically downloaded to my phone!!! How cool is that! I've subscribed to Chuck Missler, Lifehacker, Sid Roth, Car Talk, and Mel Bond so far. Fun!
I managed to miss all the crazy traffic this holiday season by staying home. It was rather nice. One of the fun things I did was visit ThereIFixedIt.com. It's one of my favorite "cheeseburger" sites. Here are a few of the best funnies I found this at the site and around the Interwebz week!
WANT. What a great idea!
Be honest. What would you do?
It's a miracle that I have never done this…
Now THAT's frugal.
Ya gotta do what ya gotta do….
:wazzat:
I would SO do this. Hey, crockpots and replacement parts are expensive! Home Depot sells tiny vise grips for 99 cents. 😀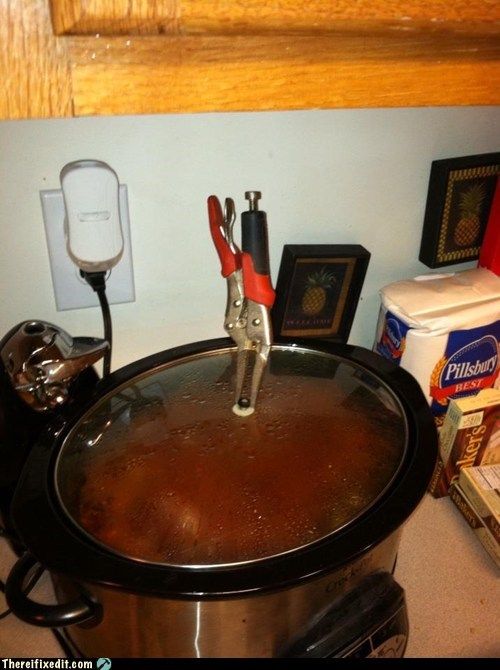 Ah, that Russian hospitality….
Have a good week, folks.