This is really neat! I just posted a review of the book The Case For Christ by Lee Strobel, and I found it at Buy.com! Actually, what I found was The Case For Christ audio book, something I've been wanting for quite a while now. Buy.com has it on sale for about $21! Yay!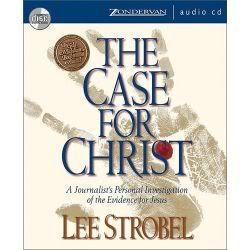 The Case For Christ, as I've said before, is a GREAT book. I've read the book (don't own it yet; but I will buy it, now). We have the DVD The Case For Christ; we just watched it again this week. I like it, it's very good, but the book is much more thorough, and that's what I really want. I'd read it to the kids a few years ago, and they loved it, too. You can read my review of it..
Did you know Buy.com sells books? Yes indeed! And they sell audio books, as I just discovered today. The Case For Christ paperback is on sale for about $12 right now. Buy.com also has best sellers, older books, and they also have the "Dummies" books– those are my favorite kinds of books, LOL! They have a regular sale on best sellers– 50% off everyday. Plus, they have textbooks! You can go to the site and do a search for the ISBN code number for the textbook you need. This is a great resource, since I am always scarfing up history books for the kids. There's SparkNotes (I love those, too), dictionaries, tax books, college and graduate books, and loads and loads more. You can buy books new, or used.
So anyway– if you have not yet read The Case for Christ, GET IT. It is one of the the best books I have EVER read. The DVD is OK, it's good, and it's a great introduction to the book… but the book is outstanding. And for $12 or $16, it's a DEAL. There's also a student edition (I got that a few years ago, for my son) and of course the audio book on CD which I can't wait for!! Yay for Buy.com!