My kids, for some reason, are nuts about the Far East: China, Japan, etc. I never had much interest, really, until they got into it. I think they expressed interest after reading some stories about some of the marvelous missionaries who went to these countries, like Gladys Aylward from England and Eric Liddell. Gladys Aylward's story is especially inspiring– she was a spinster with a great hunger to preach the gospel to the Chinese people. She requested to join the China Inland Missionary organization, but was rejected because of her age and inexperience. So Gladys bought a train ticket and went herself. Her story is absolutely REMARKABLE. The kids have read several books about her and there is a slew of websites in her honor. Most notably, Gladys is known for saving 100+ orphan children from the Japanese during World War II. They trekked 12 days over rough terrain to reach safety. The Mandarin of Yangchen made her the official to enforce the new "no foot binding" law he passed. Gladys spread the gospel as well as teachings on hygiene wherever she went.
Anyway, my one son is very interested in learning Chinese. He can read a little of it. I think it's important to start a child early.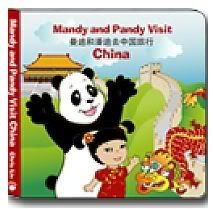 Apparently, some other folks do, too. Have you heard about the "Mandy and Pandy" book series? It's six hardcover, colorful books (with audio CDs) that teach children Mandarin Chinese. The books are suited for children ages 4 to 8, which is the perfect time to get them started on a language. Check out the Chinese for Kids with Mandy and Pandy if you are interested! The books are very colorful and there will soon be some activity books released. These are terrific for home schooled kids and for library "time out" reads.
My kids are too old for these books, unfortunately. But they'd make great gifts for little ones! Definitely give them a try– teaching other languages is a marvelous gift to a child.