I found out that Sears is currently having a terrific sale during their clearance sale. I ALWAYS get boots, coats, heavy shirts, and winter pants for next winter during the clearance sales in spring. The worst thing you can do is pay full retail price for stuff for the season DURING the season!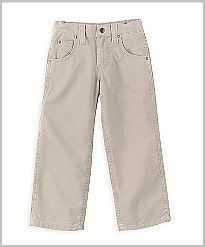 I have four kids and the clothing budget can very easily run us into the ground unless I nab clearance deals. Sears apparel is renowned for the last 100 years as being the best (I remember wearing the stuff as a kid! Remember the old ToughSkins and PermaPrest brand?). The special clearance offer is good until April 18th, and includes really great prices on all the Fall and Winter clothing. Discounts are running at around 75 to 80% off original prices! This is a steal, and Sears has quality goods. Check them out. I found some boys' pants at a steal there, for my sons who are growing like weeds.
Also, right now, from today March 20 until Sunday, March 22, Sears is having an additional sale on loads of stuff in the store: footwear, school uniforms, baby clothes and accessories, handbags, women's stuff, men's stuff, kid's stuff– everything! Get 15% off everything in the store from March 20 to March 22– regular-priced as well as sale and clearance, with a coupon from the website. This is a great time to get the stuff you need for low prices! You can print out the little online coupon and use it at both the Sears retail store near you and the online Sears.com store– see it here.