I just discovered a gem of a little tool! It's called clipix. I've been using it all day and I think it's rapidly becoming the VIP of web browsing tools.
In case you haven't heard, Clipix is a little tool that you use to save all the cool stuff you find online. Let's say you are surfing the web and see an awesome deal at your favorite store. Click the little Clipix button on the browser to save it to Clipix. And let's say that later, while reading my blog, you find an awesome story you want to share with all your pals– again, just click the Clipix button. Oh, and let's say your pal on Facebook mentions a great deal on train tickets or a hotel or a pair of shoes you've been looking for– click Clipix! Later, just go to your Clipix account and VOILA! There everything is!
The dudes from Clipix made a video that shows all the things you can do with Clipix.
Here's a sneak peek of one of my Clipix boards. Isn't it pretty? 🙂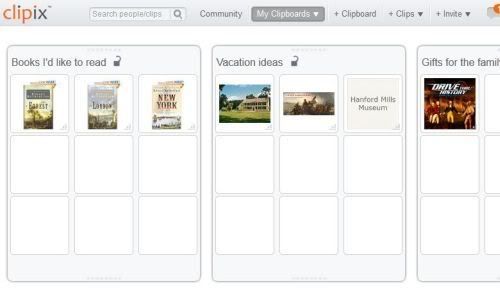 So far, I'm using to store stuff like vacation ideas, gift ideas, books I want to read, and cool videos and photos I find on Facebook for reposting here on the blog. It's been a real godsend because it allows me to save everything I like and access it later from other computers.
One of the best parts about Clipx is that there's an APP FOR THAT! Woohooo! So now I can access all the stuff I like from my phone. Very, very cool. I am liking Clipix more and more. It's a great time saver and it also helps me remember things I would otherwise forget or have to look for all over again.
I highly recommend Clipix. Go check it out for yourself. What will your Clipix board look like?
Promoted Post