I saw a Color Quiz at Lenox Knits and thought it looked interesting. I did a search for a few more, just for fun.
I also seem to have mixed personalities. Then again, maybe the quizzes are all out of whack, eh? One says I am YELLOW:
you are yellow
#FFFF00

Your dominant hues are red and green, so you're definately not afraid to get in and stir things up. You have no time for most people's concerns, you'd rather analyze with your head than be held back by some random "gut feeling".

Your saturation level is very high – you are all about getting things done. The world may think you work too hard but you have a lot to show for it, and it keeps you going. You shouldn't be afraid to lead people, because if you're doing it, it'll be done right.

Your outlook on life is very bright. You are sunny and optimistic about life and others find it very encouraging, but remember to tone it down if you sense irritation.
the spacefem.com html color quiz
Another says I am BLUE:
You give your love and friendship unconditionally. You enjoy long, thoughtful conversations rich in philosophy and spirituality. You are very loyal and intuitive.
And here's a practical quiz from Pratt & Lambert, the paint company. It gives you your colors that best suit your personality and your home. I liked this one, although the choices were a little overbearing. The site has a description of your style and a short listing of paint colors to paint your house (or for frilly stuff like party favors first birthday or whatever). It's nice– I think I liked all the colors in the swatches presented to me with the quiz. I'm actually going to keep this handy should I repaint the rooms around here again!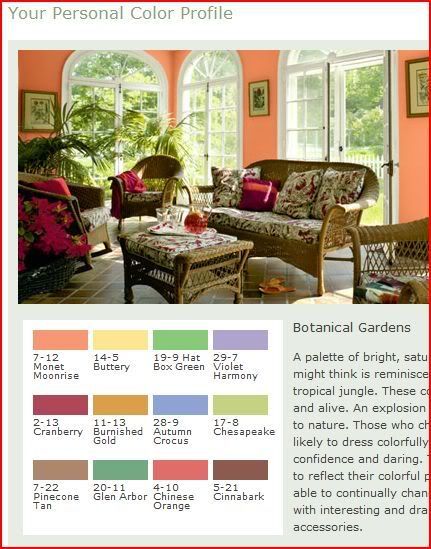 So that's my weekend wacky frill. How is your weekend going?