Two giveaways are ending this week– don't forget to enter if you have not already. :shades:
Firstly, my friend Rena at her blog A Little This and That is giving away an absolutely gorgeous 5×7 country print. It's EASY to enter (she's a gal after me own heart, she is)– all you have to do is leave a comment, mention the giveaway on Twitter, Facebook, or your own blog. Her giveaway ends December 2nd! Hurry up if you want to enter. Rene's blog is really nice, so even if you don't enter the giveaway, go visit the blog. She has a potpourri of posts and ideas.
Secondly, I am having a giveaway, too!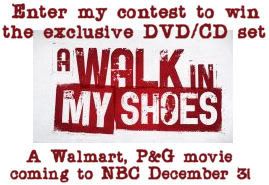 Walmart and Proctor&Gamble have created another family-friendly TV movie, A Walk in My Shoes, and I'm giving away one free complete DVD set which includes the movie and the special features and the DVD movie soundtrack from Randy Jackson! You can see the movie trailer and enter the contest HERE. Like Rena, my contests are easy to enter– just leave a comment, "Follow" me on Twitter, Google Friends Connect, or subscribe to my RSS blog feed for chances to win.
A Walk in My Shoes will play on NBC on Friday, December 3rd. My giveaway ends at midnight that night, too. So don't delay, you've got a few days left!
Both of these giveaways have things that would make really nice gifts. 😀 Check them out!