My son is currently taking a nice science course for grade 8; it teaches a lot about physics and matter and engineering (which are my favorite science topics). Like any kid, my son is not too thrilled to be reading a textbook about the stuff– but he's exceptionally talented in engineering, I think. He's the one who is my helper when I have to assemble computers. He's able now to set up all the electronic gadgets, and whenever I get a new piece of furniture or some other doodad that needs assembly, I hand it over to him to figure out. He's also phenomenal at reading instructions and figuring out how to run things. His big hobby is Legos (his blog is called The Brick Buster), which I encourage because I think he may have a future in engineering. Engineering jobs are valuable, and pay well. And BELIEVE ME, the world needs some good engineers out there. My town's INSANE traffic circles are proof of that.
I found some funny engineering FAILs to share with my son, as a — you know — educational example of how NOT to do things. :duncehat:
I'd REALLY love to know how the braniacs solved this one….
BAD. lol, no engineering recruitment commissions for these guys!
This looks real. Is this for real?!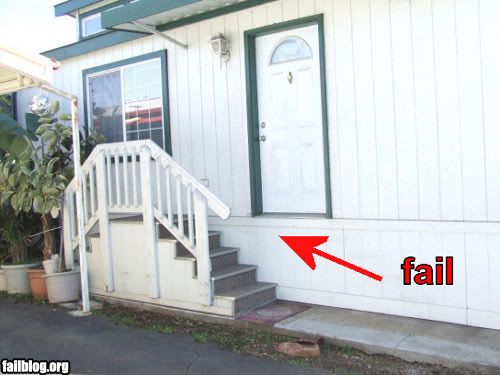 And look, there's a kid climbing up the stairs of the slide!! FAIL.
The house in this photo looks eerily like a house in my neighborhood….
Reminds of the stupid traffic roadways around here.. wide strips with dead ends….
This one is a WIN, I think.
And finally, just to frustrate the passers-by….
I'd say engineering is an important skill! And obviously a rare one…