It's Friday already?! Again?!
Oh well, I like Fridays. We have a busy weekend and week coming up, so things are crazy around here. And *just* when I thought I'm all caught up on my writing jobs, I get a few more assignments. :-p Oh well, I'm grateful for the work.
I always have time for a fun meme, though. :grinny: Here are this week's questions: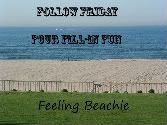 1. _____is my favorite fruit
Hmmm… this is a tough one. I tried fresh pineapple for the first time this summer and OMG what have I been waiting for?! Before then, I'd always eaten canned pineapple *shudder* and hated it. I thought the fresh would taste like the canned. They taste nothing alike! Yum.
2. I know it sounds silly but, I can't stand _____.
…wearing high heels. I also think it's rather silly that ladies even WEAR high heels. It's especially silly when women try to walk fast or run in them. Have you ever noticed in the movies that the leading man is almost always fully dressed, wearing comfy shoes, but the leading lady is *cough* usually missing clothing in targeted areas and wearing high heels? :hmph:
3. The _______ of __________ reminds me of ___________.
The smell of herbal tea in the autumn reminds me of meeting my husband. We were tea drinkers back then. I started drinking coffee after having children. 😮
4. I have to ____________ before ___________ knows _________.
This one is hard! I've only had one cup of coffee so far today, so the creative juices are a bit sluggish yet, hmmm…. :thinky:
I have to… ummm…. before….. uhhhhhhhhhh…
wow, I just can't think of anything! :iquit: Maybe you can? Leave a comment if you can!
Off to do some work. Then it's a dreaded trip to the grocery store! :run: How's your Friday looking?