It's something you probably never notice. You enter a room, and flip on the light switch. You do whatever you do, and before you leave the room, you flip the light switch off.
DO YOU HAVE ANY IDEA THE WORK IT TOOK TO MAKE YOUR LIGHT FLIPPABLE?!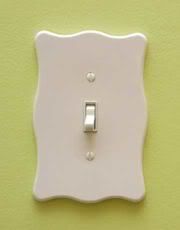 I'm in my bedroom right now, relaxing in my very comfy bed, with my laptop. My bedroom light is on. It's a light switch. A MODERN, BONA FIDE light switch!!! I am ecstatic, even after all these two years of having a light switch!
My home is 150 years old. It was built before electricity. And after electric lighting came to my rural Upstate New York town, half of the people installing the new-fangled contraptions had no idea what they were doing. Including the dude who owned this house. It's a miracle the house didn't burn to the ground.
Stuff was added piecemeal to the house up until the 1980s, but no one ever installed any light switches in the bedrooms. They were all pull-chain lights, still, after 60 years. And in two bedrooms, the pull-chains didn't even work anymore.
In 2007, I gutted my living room only to discover an electrical horror show. The wires were chewed up by mice, dangling bare, and the "wiring" technique of the previous owners was taping spliced wires together with electrical tape (now 50 year-old electrical tape).
I ripped out all the dangerous wiring, and in so doing, I lost electric for more than half the house. I studied electrical diagramming and took a crash course in the National Electric Code by night, and wired the house by day. The worst part was trying to drill 1″-wide holes through 6″ solid wood joists. The other horror was going into [insert creepy organ music] THE ATTIC. *shudder* A half-story coven of bats, mice, and loose fiberglass and cellulous insulation. And there I struggled against the 1920s knob-and-tube wiring– ALL to get LIGHT SWITCHES installed for two of the bedrooms. I type that so easily, but there was a lof of blood, sweat, and tears to get those durn things installed. A lot of tears, lol. With equal parts frustrated screaming.
But here I am, now basking in the radiant ceiling light that I FLIPPED on with such ease! No more groping in the dark, hoping to grasp that pull-chain, and hoping even more that it would work this time! No more squinting in the shadows, rummaging through my shadowy dresser drawers! I have a FLIPPIN' LIGHT SWITCH!!!!
Modern technology. Ahhhhh.