Ugh, I am SO horrible with memes. I just never remember! Combine that will my propensity to mix up the days…. I woke up thinking today is Saturday. It's really tough to keep remembering that it's Friday today… that I have to work today…. *sigh* lol :brudder:
Well, I like this meme and here's hoping I can stick to it. It's the (get ready for a meme name of epic proportions): The Follow Friday Four Fill In Fun meme. *thud* I'll probably shorten that to an endearing nickname. By the time Saturday Friday rolls around every week, I'm typed-out.
Here's a cool little button showcasing the meme's founder's blog.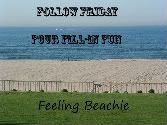 She lives by the ocean in Long Island somewhere and I AM SO JEALOUS! Except when a hurricane passes through… although– oddly enough— we here in Upstate (400 miles inland) got hit worse by the last two hurricanes than they did by the ocean. WEIRD.
Anyway, without further ado:
This week's statements:
1. I always refuse to admit_____
I always refuse to admit that I always refuse to admit certain things. :groucho: How's that for evading a question!
2. I won't eat ____
….. ?. Well, just the other day I said I wouldn't eat calamari, but then I ordered a seafood dish and –lo and behold– there was some calamari, so I ate it. And survived. Pretty well, anyway. Um, so now I have to think of something off the cuff that I wouldn't ever eat. I guess raw oysters. But then again, they just might show up in my seafood plate…
….no, I definitely will NOT eat raw oysters. 🙄
3. I would like to hang out with _____________ for a day.
I would like to hang out with Tom Silva for a day. You know who he is? He's that contractor on This Old House. He talks a lot and he's always doing neat things like fixing a roof or building a house or whatever. I would absorb everything he said and did, and come back home and do it all here!! Or better yet, maybe I could bamboozle him to come to MY house and he can do everything while I watch. Now, that would be cool.
4. I would like to learn how to __________
Zumba. I've been trying to get to a class all summer long, but I've been too busy on Saturdays!!! Fridays!! Gah! :hmph:
Well, this was fun. Memes always are. Stay tuned for next Saturday!!!