I blog so much about my cats that I think I should, lest I be accused of partiality, mention something nice about dogs.
Um.
They're OK.
I have a dog, a cute little beagle. She's a little pesky because she's *all* beagle.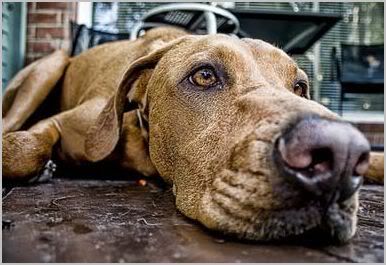 Which means she couldn't care less about snugglies and lovins. She wants to RUN FREE LIKE THE WIND, baby! We've gotten to know just about everyone in the neighborhood, thanks to her. Although, we finally found a leash tether that keeps her in the yard without wiggling or breaking loose, so I haven't seen my neighbors in a few weeks. Hm, I'll have to do something about that….
OK, so if you have a sweet little pooch who is in need of some cozy living, check out PawDigs.com. They have some really great stuff there, very elegant designer dog beds! They have some great prices on quality large dog beds (much better than the cheapo WalMart brands), as well as everything sleep-related for da dog in your life. They also have some good articles about what to look for when choosing a dog bed, etc. Very nice! And the styles are really cute– check out the "Double Donut Bed," the "ultimate in doggy elegance." When your dog deserves the very best, you have GOT to check out PawDigs.com! And even if your dog doesn't deserve the very best, well, the photos of the dogs in the dog beds are cute, too. Hee!