I'm not too late, am I? Man, Fridays always catch me unawares. Here are this week's questions for Hilary's Friday Four Fill In meme. They look like good ones, too! 🙂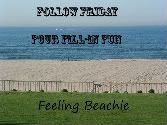 1. I am afraid of____.
Ugh. No comment. I've been trying to avoid the news headlines….. I am in a good mood right now so I'll just skip over to #2 if you don't mind!
2. My ___ is my favorite room of my house.
My kitchen. We renovated it in 2010. A lot of blood, sweat, and tears, I tell ya. But it was worth it. I know most of you have seen the BEFORE and AFTER photos, but for those of you who haven't, here is what my kitchen looked like before:
And after, standing in the same spot:
Yeah, it shocks me, too. LOL. I can't believe we lived with that kitchen for 10+years. Now all we have left to do are the bathrooms, the upstairs bedrooms and the garage! :wazzat:
3. The last time I _____ I couldn't ______.
The last time I bought printer toner, I couldn't believe how expensive it was! Because we homeschool, I print a lot of worksheets for the kids. YOW that toner is expensive. And don't get me going on the cost of a new printer drum. It's cheaper to buy a BRAND NEW printer because the new ones come equipped with a new drum and a small starter unit of toner. I cannot fathom why that stuff is so expensive. Car Shipping in not that expensive. I think the printer companies are shafting us. Whew.
4. I got my first _____ when I was ____.
I got my first car when I was 20. I got my car about 4 months before I got my driver's license. :grinny: Don't tell anyone, but I drove without a license for a while, hee hee. I have NO IDEA how I ever got car insurance before getting my license — did I even have insurance? Don't you have to have your license before a company will insure you? I can't remember. I was so naive when I was younger. I knew nothing about taxes, insurance, Auto Transport Quotes, how to balance a checkbook, nothing. I learned it all after I got married.
How would you fill these out, friends! Check out Hilary's blog! Have a great weekend.