I don't know why they bother to discuss global warming during the winter. It ALWAYS means bad press. But darn it, it's so funny!
The Global Warming Yadda Yadda is supposed to chitter-chatter (emphasis on the chatter) their plans before the Senate Foreign Relations Committee tomorrow (Wednesday). (Talk about producing a lot of hot air). But the problem is, another whopping snow and ice storm is chugging its way toward it! LOL!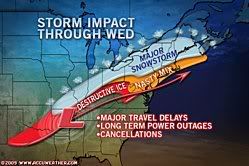 Here in New York, we're battening down the hatches. I went to the store this afternoon, and it was packed with throngs of people buying up stock goods. We're expecting up to 12 inches by this time tomorrow.
Back to Global Warming and the winter meetings, I'm not the only one who has noticed an odd occurrence about Al Gore. No matter WHERE he goes to discuss Global Warming, a freaky snow or ice storm follows his tail. This is from the DC Examiner. LOL!
Former Vice President Al Gore is set to testify before the Senate Foreign Relations Committee this morning on global climate change. Which means, of course, that it's been cold and snowing here. More of the same (freezing rain, actually) is expected while he speaks. Today's high temperature is forecast at 36 degrees, and a Winter Weather Advisory is in effect until noon.

This always seems to happen to the global warming crusader. Last October, freezing temperatures followed Gore to Boston, as he gave a speech at Harvard.

In November 2006, Gore flew to Australia. Cold and snow came with him, despite that the country was nearing its summer months.

In January 2004, a Gore speech in New York was marked by a low temperature that day of 7 degrees.

In fact, climate-change skeptics and other thorns in Gore's side have dubbed the coincidental phenomenon "The Gore Effect."
We'll have to invite Gore over in late July, when we're sweltering in the New York humidity and more in the mood for cold weather. He might actually do us some good, that way. Maybe.