It's time for me to be tardy with another meme! Here are the questions for this week…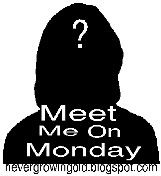 Questions:
1. How many pillows do you sleep with?
I am a pillow hoarder. My whole family has been nuts about pillows.
I think it's because of my step-dad. He always had a ton of pillows, a ton! He would sit like a Sultan on his bed of pillows and order us kids around. lol. He was a diabetic, so he used a lot of pillows to keep his legs elevated.
Me, I sleep with four pillows. Yep! And I have three on standby. 😉 I sometimes use a wedge pillow, and I also have a very long "body" pillow, too. I've always slept with two pillows, but after straining my back and going on bed rest for a few months, a couple years back, I surrounded myself with pillows to support my back. It just feels so good, I kept all the pillows!
2. Where will you eat on Thanksgiving?
At the dinner table. :grinny:
3. Would you rather go to a party or host a party?
I'd rather not go to any party. I'm not much of a socialite. Every year I think I may go to BlogHer or BlogWorld or something, but then I think of all the crowds and the noise and not knowing hardly anybody…. and I chicken out. I've never liked parties. But if ya pinned me down and I had to choose, I'd rather go to a party than host one. That way, I can leave when I want. And I also won't have to clean the house before guests arrive….
4. How many purses (for the guys..wallets) do you own?
I was never a "purse" person up until 6 or 7 years ago. Now, I'm a purse MANIAC. I have about FIVE of them! My favorite one is a tiny, tiny iPhone purse. It's basically a small white wallet with straps. It fits my phone and my cards, and that's it. I like traveling lightly.
5. What is your favorite kind of seafood?
Scallops. No, no wait– SHRIMP!! No, NO wait— FLOUNDER! Oh wait– I think it's definitely SALMON!!!