I don't know about you, but I have had the hardest time keeping my days straight this past week and weekend. Everything in my usual schedule has been completely out of whack. Christmas was only part of the befuddlement: my two sons have been very ill (doing better), the Hubs had some odd days off, and I feel like I have been in suspended animation, lol. Christmas Day was fun… a sick cat, a sick kid, overflowing toilet, spewing sink drain. Oh yeah.
Anyway, it's over now, lol. Christmas hasn't been this fun in 16 years, when my newborn baby and two toddler kids got the flu…. three times over. So I'm thankful we got it just this once this time. LOL
Anyway, I'm so glad it's Monday. That means that things will be back to normal! And it's nice to start out the week with the meme. Here goes!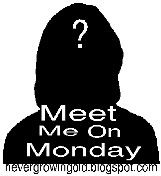 1. What are your New Year's Eve plans?


I am gearing up for a wild, crazy, frenzied, bacchanalian evening of Scrabble with the husband! Woooooo! I'm cracking my knuckles, combing through the dictionary, and drinking the raw egg protein mixes, baby! Hum The Theme Song From Rocky and be rooting for me, guys!
2. How tall are you?
Average. Almost 5'4″. I used to be 5'3′, but after having my first child (at age 22), I grew a little.
3. What is your favorite pudding flavor?
Anything except banana. Ick. Oh, and except coconut. YUK. Oh, and I don't like pistachio, either. Or lemon. But I like any pudding flavor, whatever. I think the most luscious pudding tastes like dark chocolate, like in those chocolate gifts boxes. YUM.
4. What room of the house do you blog the most in?
I write my articles (I'm a copywriter) up in my bedroom, believe it or not. It's quieter up there, without the dogs, the phone, the traffic, etc. But when I blog, I usually do it downstairs, in my living room. Blogging is a lot easier than copywriting, so I don't require a totally silent atmosphere. Even so, I hope to convert the living room into an office someday. I will eventually convert the attached garage into a big family room, and then I will be able to have the whole living room to myself.
This is my setup, photo taken from last year (before the renovation). I have moved furniture a bit and we have a new rug, but the big ol' desk is the same.
My Tabby-point Siamese, Livvy, likes my desk, too. :blink:
5. What is your best physical feature?
Hmm… I would have said my hair, but in the last year my health has suffered and my beautiful, glossy, thick, wavy locks have been replaced with limp, thin hair. I'm eating better and trying not to overwork, so my health is improving and my hair is growing back.
My legs were also very nice. 😀 I took ballet as a young lady, and my legs were muscular but shapely. I have extremely strong legs. But the past few years I have grown sedentary, due to recovery from a back injury and my new desk job, so my legs are thicker. Still, my legs are honking strong. I can whup my husband in Indian wrestling.
Thanks for visiting me this Monday! Please consider "following" me with Google Friends Connect in my sidebar ———> I'll follow you back! Have a happy and flu-less New Year!