Monday snuck (oops, SpellCheck alert) sneaked up on me today. Mondays and Wednesdays are usually my busiest days, and they also happen to be the days for memes. EEP!
Well, I do try to squeeze in Meet Me on Monday, even if I am late. 🙂 Here goes!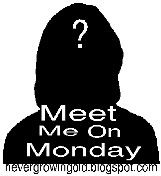 Questions:
1. What is your favorite kind of fudge?
Huh. Last time I ate fudge was…. years ago. Weird. I haven't missed it. UNTIL NOW OH THANKS A LOT, JAVA!!! *hee*
OK, well, I guess any fudge is OK as long as:
a. I don't have to make it.
b. It does not have nuts. I'm plenty nutty as it is! BWAHAHA! :jittery:
2. Is there snow outside your window?
Yyyyyeaaaaahhhh. Kind of a lot.
It was also cold today, woke up to -14. Yep, that's a "-" there in front of the number. Honestly, I didn't think it was cold. I enjoyed going out. It was about 3 degrees the other night– I had to walk to the corner store to get milk, and it was a lovely stroll. The air was so crisp and clean, the snow was very crunchy under my boots. I like winter. It helps to have a good layer of insulation, too, which I have.
3. What is your favorite meal of the day?
Lunch. I skip breakfast (even the smell of food makes me nauseous then). I like lunch because it's full of the foods I like to eat: raw florets of broccoli, a salad with Greek olives (YUM) and raw garlic, mozzarella cheese, leftover pizza, nuts, etc. I dislike the big meals during dinner (and I dislike cooking these days, too). I'd much rather snack, and for lunch, I get to do just that.
4. Do you text on your cell phone?
ALL. THE. TIME.
I much prefer email and texting to yakking on the phone. It must come from all that discipline, writing letters as a child. Unfortunately, the rest of the family are yakkers, and so we don't communicate long distances very well.
5. Waffles or pancakes?
Um, whatever. As long as it's for lunch. 😀
Thanks for reading! Please leave your link in the comments so I can visit your MMoM. I was quite the slacker last week when it came to blog reading (I was WORKING, honest!), but I promise I will set aside time to visit everyone this week. AND I'll leave smashing comments, too. 😀
Have a wonderful week!