It's Monday! Woohoo! I like Mondays. I like the fresh start of the week, all the opportunities before me. I work at home doing what I love (blogging and freelance writing), so I love workdays.
Before I start, I want to let you all know that I DID manage to visit every single Meet Me on Monday participant! I left comments on all but three blogs, too! I DID IT!!! It took me three hours, though. 😯 I humbly thank all of you who came to visit me back and leave comments. THANK YOU so much! It was a blast!
Now to start!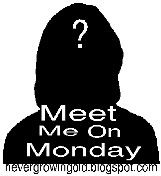 1. Did you get any Valentine's Gifts?
Hmm, not yet. I don't think I will. We don't really celebrate holidays, except for Thanksgiving and Independence Day (July 4). Of course, if I get a shiny red car with a big bow on top or a billion roses, I wouldn't object.
2. What is your favorite topping on something toasted?
Eh, butter. I don't eat toasted stuff all that much, though. As I get older, bread products bother me.
3. Do you pick out your outfit the night before?
Yeah, the same thing I have on today. HAHA kidding! Since I work at home, I don't ave to dress up. I wear linen or knit pants, a t-shirt or chamois shirt, and flannel shirt. Nice and cozy. I'm definitely a Non-Posh mom. One of the things I disliked about working outside the home was having to wear fancy clothes, especially nylons and heels. YUK!
4. What food item do you absolutely despise?
Lima beans. :rainy: DISGUSTING!
P.S. Java, did you realize that you ask a food question every week?! I am going to HAVE to stop doing this late Sunday night. By the time I'm done posting, I'm starved!
5. Righty or lefty?
Well, depends. I'm not exactly ambidextrous, but I can write with either hand. Actually, when I was in high school, I was friends with a girl who was left-handed, Kelly. We came up with the idea to practice our handwriting with our opposing hands– we would do all our homework with the other hand. The teachers NEVER complained about the poor handwriting, lol! I wonder if they even read what we did…. And in Art class, my teacher had us practice "Drawing on the Left Side of the Brain." We first drew a pencil drawing with our right hand. Then, we flipped it upside down and drew it again. When both were done, we compared them side-by-side, right side up. The difference between the two was amazing! LOL
So this was fun! I don't think I will be getting to ALL participants this week, but I can sure try. Please consider following me on Google Friends Connect. I follow back! Thanks! Have a great week, everyone!