It's continuing! Yay! Let's cut to the quick: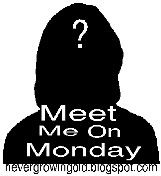 Questions:
1. What are you wearing right now?
My usual: knit pants, a t-shirt, and a flannel shirt on top. My hair is loose (almost waist-long). I'm still wearing my makeup from this morning.
2. Do you have freckles?
Nope. Never wanted them after reading "Freckle Juice." My skin is dark, unusually so. Well, as I've aged, I look lighter. But when I was a child, I was very dark; I looked almost Eastern Indian. My mom is very fair and my dad wasn't very dark. I was outright swarthy. I never knew which side it came from until years and years later when I met my dad and my half brothers (my parents divorced when I was young and so I never knew him til I was an adult). My two half brothers were DARK, they looked like pirates! SO I guess that's where I got it from. All that to say I don't have freckles, lol.
3. What is your favorite Lifesaver flavor?
Probably Wint-O-Green. You know, when I was in elementary school, I bought a package of Life Savers (they were 10 cents– a fortune for an 8 year old!) and some of the candies were mangled inside. I wrote to the company, and they sent me TWO boxes of 12 Life Savers packages to make up for my loss! OMG! I was so amazed that I schemed to write the Tootsie Roll corporation, the Mars candy corporation…. I wonder if it was my childish handwriting that gave it away. I never got any more candy compensation. lol
4. What is the last movie you saw in the theater?
Um. Wow. That's going WAY back. I think it was "Communion." My brother was working at a movie theatre and got us in for free, and we thought the film was about religion or something. Nope. It was this horribly creepy movie about alien abduction. I couldn't endure it. I walked out. HORRIBLE! Before then, the last movie I'd seen was probably "Casablanca" at a special screening in New York City. There was some movie house off of Broadway called The Regent and they played old movies. It was VERY cool to see old movies on the big screen.
5. Would you rather live without tv or without music?
Well, I do not watch TV, so I guess that's that. I do like my movies– documentaries and historical movies (like "The Patriot" and "Ben Hur" and "Bridge on the River Kwai" and etc). I'm not terribly hooked on music anymore (sheesh, I used to work in radio, too! Who'da thunk?) but I love Hillsong and couldn't be without their music on occasion.
These questions were fun, as always! Thanks, Java, for continuing the meme. I have fun visiting everyone's posts.
Have a great Monday, everyone!