The first Monday of the new year, the first Monday after vacation!!!
Wow! What do you think of that, huh?
:hmph: Yeah, I think it stinks, too.
Wouldn't it be wonderful to be able to stay up late any night you wanted, sleep in, eat cookies and candy canes whenever you wanted, no homework, no work….
*sigh*
Happy Monday, folks. Let's get this over with as quickly as possible, eh? 😉
My new tradition is the Meet Me on Monday group. It's by a bunch of old ladies women "over 40" with a few young whippersnappers younger folks who get to know each other better.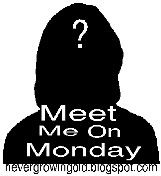 Questions:
1. Do you have any New Year's resolutions?
For several years now, I have staunchly resolved not to make any resolutions. And I must say that I have been 100% successful on a consistent basis.
2. What food item are you craving right now?

I woke up not too long ago, so I'm craving the coffee. Some days, I wish I could just open the top and chug the entire pot. But I'm a glutton for punishment, so I prolong the agony– one cup at a time, all morning long.
Later, I will probably crave a huge, sloppy Greek antipasta with monster olives, feta cheese, roasted red peppers, romaine lettuce, onions, and hunks of provolone cheese.
But we're having spaghetti for dinner. :cwy:
3. When is your birthday?
I got a whole bunch of "Happy Birthday" emails from Facebook friends over the weekend! I don't "do" Facebook (I greatly dislike their information snooping), so I put up a false birthday: Jan 1. I had no idea that friends could see that, and that they would think that my birthday was really January 1st, and that they would send me emails. Oopsie! The emails were so sweet, though. 🙂 But that's not a bad idea– maybe we ALL should put our birthdays as Jan 1 to teach Facebook a lesson for snooping and selling our information!
4. What were you doing an hour ago?
What time was it then… ? uhhhh…. it was 11:09. Well, I probably staggering around the house in my bathrobe. I got up wickedly late today (I won't even embarrass myself by telling you when), and no one had made coffee. I think I was reaching for my iPhone to check my email and Twitter.
5. Last thing you cooked?
Holy cow, this question is on a Monday…. uh uh.
I don't cook on Sunday, usually, and I think we raided the fridge for dinner on Saturday. Gosh, I cooked Friday night! It was a superb Cranberry Brisket pot roast. I had my hesitations when I saw the recipe, but it turned out INCREDIBLE. It's now my favorite pot roast recipe. I posted the recipe on my cooking blog, Wow Chow Cooking, if you are interested. It was GOOD.
Thus ends another meme and thus begins my crazy Monday. I have a backload of stuff to do, as I am sure you do, too! Have a blessed day and week, my friends!
P.S. In case you're wondering, I LOST the New Year's Eve Scrabble game. BY FOUR POINTS!!! :cuss: I wanted a rematch, but he refused. Although, he did say that this game was one of the few where he's actually beaten me in Scrabble. So that's nice. I blame my poor performance on getting terrible tiles from the bag….

see more Lolcats and funny pictures