I am flipping, ecstatic! I ordered a new book and I can't wait until it comes in!  For the summer, the kids and I are going to read through and study the Bible in chronological order (not in the order of the Bible events, but the order in which they were written). And we'll be reading the Acts of the Apostles simultaneously as a historical backdrop.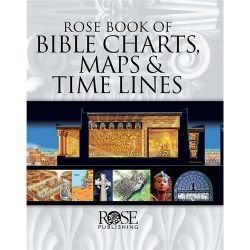 I am really excited about it– I love to study, and have been wanting to study the Bible in this way for a while. So I ordered a few books to embellish our studies.  🙂 One of them is this one, and I CANNOT WAIT until it gets here!
It's the Rose Book of Bible Charts, Maps, and Time Lines, in hardcover. Doesn't it look great? I love times lines and charts– we once had a huge kraft paper timeline chart taped to our walls– it covered about 15 linear feet of wall! We added historic events in marker to the chart as we studied them. It was fun, but I had to remove it to paint the walls.
The Rose Book of Bible Charts is at Buy.com, one of my favorite stores, evah! Buy.com has loads of great books for homeschoolers, by the way, including textbooks and reference books. And I have now made it a habit to check Buy.com every week for their weekly sale page online. The deals at Buy.com are phenomenal! They have everything, too, not just electronics– books (as I found out), clothing, even large appliances and cookware! The prices are so good, and the service from the Buy.com dudes is incredible. I love Buy.com! Check them out before you order anything online to find great stuff and save the big bucks!