Hey ya'll! If you have a laundry room full of stinky towels, linens, or clothes and want something to fix it, I think I have got the product for you! It's Smelly Towel and I reviewed it here. I am giving away a FREE bottle! Tomorrow is the deadline!
It's REALLY REALLY easy to enter. I hate hard contests, and this is a breeze. All you have to do is leave a comment at my post here: that counts as one entry. If you want to enter again, just subscribe to my RSS feed here or get my feed emailed to you and leave a comment so I know that you have done so. That's all you have to do! The contest closes January 26 at midnight. I will email the winner.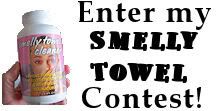 I try to make the contests easy because I personally do not like entering contests with long and complicated requirements. Plus, I do love giving stuff away! So if you like easy contests, be sure to join!
Also, I have a contest for Tony's Pizza, too! Get coupons for five free Tony's Pizzas! You can read about my contest here. It, too, is really easy to enter! It ends January 29th.