Here's a new online concept– the "drip" auction. I took a look at PriceDrip.com the other day– some other blogger mentioned this site recently, because the concept is familiar– and have been inspecting it and trying to understand how it works. It looks so easy, but I kept thinking, "Is it really this easy?!"
PriceDrip.com is an online store– they sell only brand new stuff, nothing used– but they have an open marketplace where shoppers can bid on prices for the stuff. Basically, PriceDrip is this:
You register to bid on PriceDrip. (Registering is free).
You must acquire "BidPacks." Basically, you purchase points (called "PricePoints." which cost around $1 or so) in packs called BidPacks (10 PricePoints in one BidPack for $10, for example). This gives you the opportunity to place bids on merchandise. You can buy the points outright, or you get free ones by recommending PriceDrip to friends (referrals). It reminds me of the old S&H Green Stamps that my mom used to do– remember those? She bought or acquired green stamps to purchase kitchen cookware and appliances for discounted prices.
You check out the merchandise and make a bid on a product. The more people who bid on an item, the lower the cost of the item. (More about this in a minute)
If the price drops to your bid when the auction is over, you get the item.
The item is shipped to you free of charge. No refunds unless the item is defective.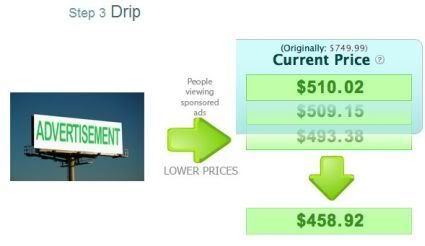 OK, so HOW on earth do they get prices to go low?? This is from their FAQ page:
How can you POSSIBLY make money off of prices dripping?

Good question. We like questions from astute bidders like yourself. Well, you see all of the ads we have on our site? They are part of what subsidizes the fall in prices — that and the interest from other bidders. The more people that bid on an item the more you save, so be sure to share the items with your friends.
It's REALLY gratifying to watch prices go DOWN instead of UP, I'll admit! It's a pretty cool concept. I think I could endure lots of advertisements to get low prices on things. My will power is pretty strong, lol.
Auctions end usually within 7 to 21 days. When it's done, the winner of the auction gets an email, where he/she can pay for the item and have it shipped. PriceDrop maintains relationships with some large distributors (one of them is Amazon.com), so they can offer brand new merchandise and speedy shipping. The only caveat is no returns. So make sure you WANT what you are getting.
So that's PriceDrip, in a nutshell! I haven't joined yet, but I think I will. PriceDrip seems a little new (they don't have loads and loads of merchandise yet), but what they do have is nice, like some kitchen accessories and some electronics stuff. They also have an Apple Mac mini for a STEAL right now (currently $587 and "dripping"). You Frugal Hacks may want to check this site out.