June is close approaching. June is the "big" month for the SATs (Scholastic Aptitude Test). We also have them in January; but here in New York State, blizzards are meticulously timed to dump 20 feet of snow on SAT Day, every January. It's amazing, how coincidental it is. Hee hee!
ANYWAY, I want my kids to take the SATs. I also want them to do a *shade* better than I did. (Wild horses can't get me to reveal how poorly I did). I never studied for it, nothing. I wasted all that time. So I've been scouring the Internet for some nice SAT prepratory resources for the kids– DVDs, CDs, books, whatever.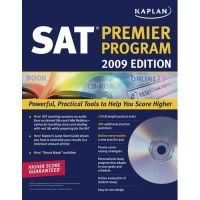 Hey, did you know that Buy.com sells textbooks? Yes they do! And they offer free shipping on selected items, too! Buy.com has a searchable book database– you can search for your particular book by typing in the ISBN, title, or author of the book you're looking for. Or, like me, you can browse the large collection of books available. There's a very nice SAT prep book on sale, the Kaplan SAT 2009 Premier Program, and it comes with a CD. Includes 10 practice tests! Woohoo, won't that thrill the kids! Ha!
Buy.com is my favorite store; these people have EVERYTHING: books, textbooks, clothing, footwear, electronics, vacuum cleaners, household supplies, jewelry, more more more! It's become part of my regular Tuesday routine to check out their weekly sale page. Frugal Hacks– Buy.com is the place to go when you're looking for good deals. And their customer service is really great. Why pay more than you have to? Check out Buy.com. And when you're done, get back to studying!