This is a Sponsored Post written by me on behalf of St Augustine, Ponte Vedra & The Beaches, Florida. All opinions are 100% mine.
*siggghhhh*
I'm in need of a vacation. I am trying to wait, trying to hang in there until the end of summer, until my kitchen is done and my job is more stable. Ooohhh but I SO want to take a long, luxurious, extended vacation. I want to dabble my toes in the salty ocean waters, lounge beneath lush palm trees, and hear birds. But best of all, I want to do absolutely NOTHING. That would be so wonderful, my friends.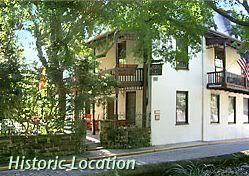 I spent some time gazing at photos of St. Augustine tonight. Just. so. luscious. If I ever see Florida again (which I'm sure I will), we're going to Kissimmee and to St. Augustine. Kissimmee has the Holy Land Experience (well, it's in Orlando, but close enough) and a medieval castle dinner theatre, and St. Augustine has gorgeous inns (The St. Francis Inn is surrounded by incredible greenery; see photo above), exquisite scenery, and the place is loaded with history. St. Augustine is named for the 4th century church father of Hippo, Africa. The Spaniards named the place after him– St. Augustine is the oldest permanent European settlement in the United States. It's older than Plymouth and Jamestown; the Spanish settled it in 1565. The Spanish explorer, Ponce de Leon, was allegedly searching for the Fountain of Youth that the natives said existed. Excavations have revealed a beautiful cross made of coquina stones, said to have belonged to Ponce de Leon and his crew. So the history is spectacular. I would revel in it, just revel. I would so love to see the site!
And I cannot believe the low prices for accommodations there. They are half of what they are for New York State, even rural Upstate! I'm always amazed to see how affordable travel is in the other states. If you are looking for some good deals, check out the St. Augustine website for information on them. There's also a slew of webpages showing all the various attractions for everyone (not just the history maniacs). The Beaches is very popular, and its no wonder (gorgeous!). I have just got to see the white sands of Florida again, someday.
How about you? If you could see Florida and At. Augustine, what would you see first?