This is a Sponsored post written by me on behalf of DoughMain.com for SocialSpark. All opinions are 100% mine.
Having trouble organizing family activities, chores, money, allowances, and bank accounts? Oh, life is so much more complicated and busier than ever before. I have tried a few "family organizers" and management books and software, but nothing has ever captured the attention of the kids AND me. There really hasn't been anything that consolidates all the family activities into one easy platform– UNTIL NOW. I just found doughmain.com! This site is really cool! It is loaded with all the family organizer tools you need to manage everything. It's also a terrific way to educate the kids about finances and responsibility with the DoughMain financial responsibility game.
Basically, a parent signs up for an account. It's free and takes about 3 minutes. From there, you create smaller accounts for family members. Each family member will log in to his or her account to see his/her schedule, finances, allowance stash, chore chart, and more. Kids can also play some cute games that teach financial responsibility (TheFunVault.com, SandDollarCity.com and IRuleMoney.com).
Highlights include the allowance tool, the family calendar (an ONLINE one that cannot be lost or eaten by the dogs!), and the chore tracker. The chore tracker is nice– the Boss (that's me) creates a calendar of events (like vacuuming) and the child checks in each day for his/her assignments. He/She clicks the chore when done to mark it as done. It's a great way to encourage the "work first, then play on the computer" habit. I made a little chore chart– what do you think? Is it too stuffed?!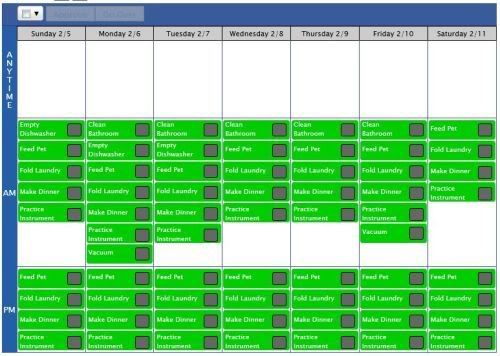 DoughMain is a really incredible site. It can be a real blessing! Definitely check it out. By the way, you can enter to win a $500 Visa gift card if you use the word "dough" as the reference code!