Well, I finally broke the bank and decided to get ANOTHER laptop carrying bag. I shopped and shopped and shopped…. only to revert back to my "usual" choice for laptop bags: Case Logic.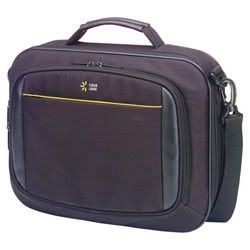 I have three in the house already– I got two for my daughters' laptops and another for my huge Toshiba laptop; but I got a little Asus Eee netbook a year ago and it had no carrying case. Since I take my Asus with me when I travel, I really needed a case for it– and my 17″ Case Logic case was way too large for the 10″ little netbook.
I have had experience with other laptop bags, having been given some from folks. I think Case Logic is the best. For one, the case has zippers all the way around the bag– this is crucial for getting your laptops in and out of the bags. I had one other case that only had a zipper at the top, and durn it, it was SO frustrating trying to dig the laptop out of that bag! Gah! Also, Case Logic has a smaller pouch in the front, with another full zipper around it! I think this is classy— I can fully unzip the front and pull out my adapters, pens, paperwork, whatever.
Case Logic has a very durable handle, a shoulder strap, and few other slim pouches to tuck excessive miscellany really important stuff inside. My oldest Case Logic bag (a 15″) is around five years old now, and going strong. The other two 17″ are two years old, and are in excellent condition. So I can confidentally recommend the Case Logic bags. I have looked at a lot of bags, and I personally think Case Logic makes the best. Of coure, if you want to spend $100 on a laptop bag, well go right ahead! I'm sure you can find a super-duper industrial strength bag for that. But for us BUDGET-MINDED people, I think Case Logic is the way to go. All my bags have cost me less than $25 a piece!
I also recommend Buy.com for your purchase. Buy.com has the most spectacular weekly sale, every week. Electronics and accessories are usually the spotlight of the sales. I searched around for the Case Logic bag I wanted, and Buy.com is selling it for under $20!! It doesn't qualify for free shipping, so add $9 onto that– but you've still got a great deal, because at other stores, Case Logic sells for $40-$50! Plus, you get Buy.com's terrific service, speedy shipping, and they have an incredible online selection of everything. Check them out– if you need a laptop bag or a vacuum cleaner filter or a new computer monitor! I think Buy.com is the best! And I'll be toting my netbook in style as well as gloating at the great price. heh heh