Well, this is a pleasant surprise.
Candace Cameron Bure is starring in Truth Be Told, the latest movie for Family Movie Night! That's so very cool!
Family Movie Night is a special mission from the folks at WalMart and P&G to bring more family-friendly movies to television (yay!). I've mentioned some of the movies before, such as Secrets on the Mountain (a very good movie), Change of Plans, A Walk in My Shoes, and others.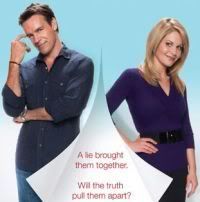 The nice thing about Candace Cameron Bure in Truth Be Told is that she is the younger sister of Kirk Cameron. And we LOVE Kirk Cameron and Ray Comfort's ministry! My kids have this mini fan club going with their TV show, Way of the Master. Candace is a Christian, too, and she is committed to being a role model to millions of young girls. As a young child star, she suffered from body image issues, bulimia, etc. Her testimony is wonderful.
So, about Truth Be Told. Like all the other Family Movie Night movies, this one is entertaining AND offers a little character lesson, too. It's about honesty, something the world could use, right?
The basic synopsis of the movie is this: Cameron plays Annie Morgan, a high-profile marriage counselor who emphasizes honesty as the best policy in marriage. Oddly enough, Annie doesn't always live by her own principles, and isn't even married! Well, Annie and her spouse are invited the home of a high-profile media mogul to discuss a radio gig. Annie gets an old college friend (a widower with two kids, played by David James Elliott) to pose as her husband for the weekend. Hmmmm. You can guess all the problems that will arise.
Here's a trailer of the movie:
Truth Be Told will be airing on Saturday, April 16th and 8pm Central Time on FOX. This looks like a really good one. And hurray for Candace!