While Twittering (or Tweeting, or whatever the blasting thing is called), a few people were having discussions on photo editing software. I'm a big fan of the Paint Shop Pro series. I was unable to discuss it much on Twitter (I'm still struggling with that 140 character limit, sheesh), so I thought I'd post about it here. I own PSP 8, 9, and 10! I love Paint Shop Pro. Why, you ask?
IT'S CHEAPER THAN ADOBE PHOTOSHOP!!!!
There is NO WAY I'm going to shell out $300, 400, $600 for Adobe Photoshop, not unless it cooks my meals and vacuums my rooms, too. Wow. Maybe a big business could afford that price, but not little ol' me! Paint Shop Pro is a "middle class" editing software. It does just about everything Adobe Photoshop does, just 75% less expensive.
I've seen Paint Shop Pro on sale at Buy.com lots of times, and they have some of the older (read: cheaper!) versions, too. I saw Paint Shop Pro Photo XI for under $20 brand new! They also have Paint Shop Pro X2 Ultimate for $65 (retail is $100). The Paint Shop Pro X version that I like is out of stock (they go fast at Buy.com) but they add to their inventory frequently. There are loads of various versions– you have to know what you want to use it for. I do a lot of graphic design with photo editing, so I like the "basic" Paint Shop Pro programs.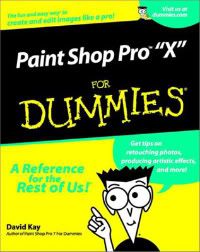 Someone asked me if Paint Shop Pro is hard to use. Well… at first, yes. There's a definite learning curve. But I have one word for you newbies: LAYERS. Once you realize that everything revolves around layers, using the software is much, much easier. I've been using the various PSP programs for about 2 years now, and I'm still learning new stuff every day. One really great book series for PSP (and for everything) is the "For Dummies" books. I have one for PSP 8 (it's a GREAT book), but I'm going to get one for PSP 10, too– Paint Shop Pro "X" For Dummies. Buy.com is selling this book for under $18 (that's including the shipping). There are loads and LOADS of other book tutorials on PSP at Buy.com, too– do a search and you'll see a whole bunch. The prices are good (discounted) and usually most have free shipping.
There are other free inage editing programs, like GIMP. I once tried GIMP but found it confusing (and because it was free, I had less incentive to push past the confusion). But PSP is a much better deal, I think, than paying $25 a year for online photo editing use (like Piknik which is through Flickr). I have experienced Piknik when it's had hiccups, and haven't been very impressed with it in general. Plus, I prefer to own my software myself, and not have to be online to use it.
So that's my opinion. There was NO WAY I could get all that into Twitter!