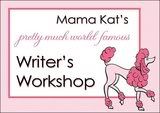 For the Writer's Workshop, I chose #4:
4.) Signs that your little one is just not that into you anymore.
It's a sad, sad thing when your little one isn't "into" the mommy anymore. 🙁 Here are the signs:
She just doesn't clamber up into your lap like she used to. Now, she finds the couch or her own little "pad" more comfy.
She doesn't pose so nicely for the camera anymore, like she used to.
She's found her own mode of transportation now.
No more Peek-A-Boo or other fun games like the "old" days.
She started hittin' the nip.
She found other confidants.
She think you are "old fashioned" and your wardrobe is so early 2000s.
Won't help out around the house.
But she'll ALWAYS be my little baby.